By Jimoh Babatunde with agency reports
It is not for nothing that The Gambia is known as the smiling coast of Africa because as a tourist destination it sure offers visitors all sorts of attractive and fascinating options to explore the best of the leisure world, leaving them with exciting and pleasurable memories.
Flourish Wellness Resort is one of its top rated hospitality properties, a luxury boutique property, which besides its leisure appeal, is classified as Africa's number one wellness and health resort, as it offers patrons premium wellness facilities and services while basking in the euphoria of its well crafted facilities and professionally delivered services.
For the Marketing Manager, Mr. Arafang Saine, the resort is a class act, which is designed to give first class treatment to patrons with discerning taste, particularly the high-end client desirous of private and exclusive treat.
According to him, the resort, which has Nigerian ex-international football player, Kanu Nwankwo, as its ambassador, cherishes its patrons and is devoted to attending to their needs at all times, hence the resort is highly rated when it comes to personalised services.
"No matter how sophisticated your taste is, how well-travelled or exposed you are, Flourish Wellness Resort is designed to meet them and encourage you for a repeat visit," said Saine while making a pitch for the resort.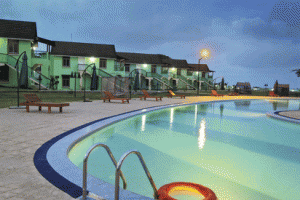 Rooms
Located in a beautiful, naturally alluring landscape and nestled against the ocean in the Kotu area of Banjul, the resort offers 40 exclusively furnished deluxe suites, all offering good view while enjoying rich décor and amenities such as free high speed WIFI and entertainment centre among others.
The exclusive suites offer expansive and aesthetically inviting living rooms with large and beautifully furnished bedrooms with inbuilt wardrobes while you have the luxury of enjoying a free walk to a private veranda or balcony to relax and explore nature and bathe under the canopy of stars.
Wining/dining
Given its luxury nature, it delights patrons with fascinating restaurants with rich aesthetics and appealing sceneries on display at its two terraced restaurants where rich continental and African menus are served. There are two bars offering cocktails, beverages and wines from Flourish's cellar, and a juice bar where guests can pick from 50 locally brewed fruits.
As a resort which places high premium on wellness, eating healthy food is a major concern as it offers dedicated healthy diets.
Fitness/sports
Offers a number of fitness and sports facilities, ranging from tennis to beach volleyball, and for golf enthusiasts there is a lush green Fajara 18-hole golf course, which is located 15 minutes away from the hotel.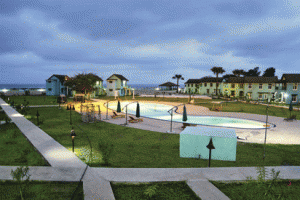 Wellness
Its wellness facilities and offerings are regarded as top range with its Ayurveda spa services leading the pack.
If you are seeking to maintain a healthy regime, with a trendy look, lose weight and cleanse your system or have a detox and eliminate stress as well stay young then this is where you should visit to experience their prized services as the resort is designed to be the ultimate getaway for a wellness retreat for adults, promote relaxation and inspire rejuvenation and overall well-being while encouraging a change of life style.
Ayurveda spa offers include whole body wellness retreat, which improves wellbeing and healthy life style; stay young and healthy (Anti-aging) retreat, designed for those aged 55 and above – as it is to keep them looking young and trendy; cleanse detox de-stress retreat, ideal for those seeking an escape from hectic and stressful lives and to experience the benefit of a holistic treatment programme; and then there is the healthy weight loss retreat, which is geared towards sustainable weight loss.
- See more at: http://www.vanguardngr.com/2015/07/flourish-wellness-resort-redefining-leisure-in-gambia-2/#sthash.Z3xXtm1Y.dpuf